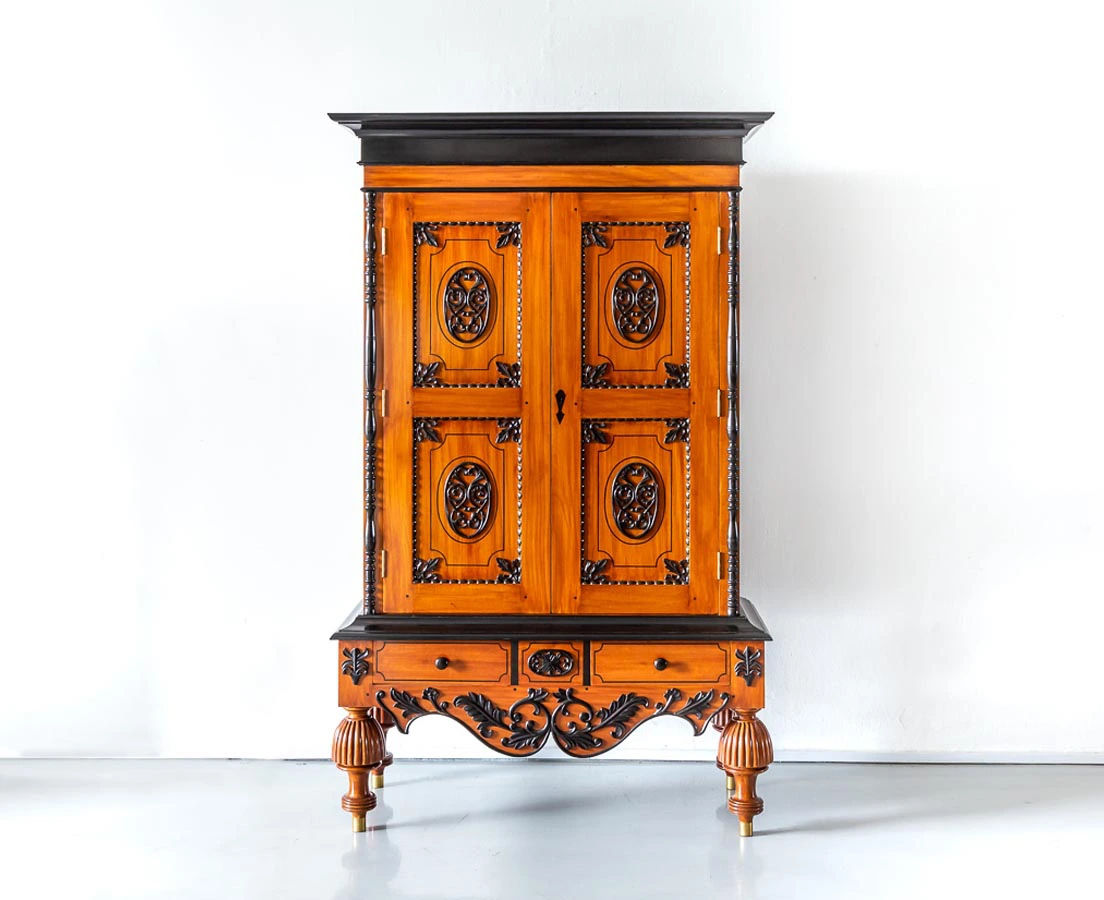 Dutch Colonial Satinwood & Ebony Cupboard
Late 19th century
A beautiful Dutch colonial cupboard in satinwood with a deep flaring cornice with an ebony moulded edge above a short ebony frieze. The double doors are constructed with fielded panels mounted at centre with a design in ebony, surrounded by ebony lining and a moulded ebony edge with ebony fleur-de-lis in the four corners. The doors, which are flanked by ebony pilasters, open to an interior with two shelves. The lower section of the cabinet has a moulded ebony edge and two drawers in the frieze with ebony pulls. The scalloped apron is decorated with ebony foliage. The legs are in a traditional Dutch style with a bulbous top, tapering, with a ring and ending in a peg foot.
The cupboard is in excellent condition and has been lovingly restored and finished to its former glory using a traditional form of French polishing and waxing.
Satinwood is a highly figured, close-grained, hard, durable wood native to India and Ceylon. It is light yellow to golden brown in color with a lustrous satin-like quality and has an excellent finish. Ebony is a black wood of very close grain and heavy in weight. It is used for inlaid decoration and especially for the dark tines in stringing.
Find out more about Floral Decoration on Antique Furniture. 
This cupboard has been sold. Please keep checking our website as we may add a similar piece.
Coromandel coast
Dutch colonial India
H: 202 cm W: 124 cm D: 54 cm
H: 79 ½" W: 49" D: 21"