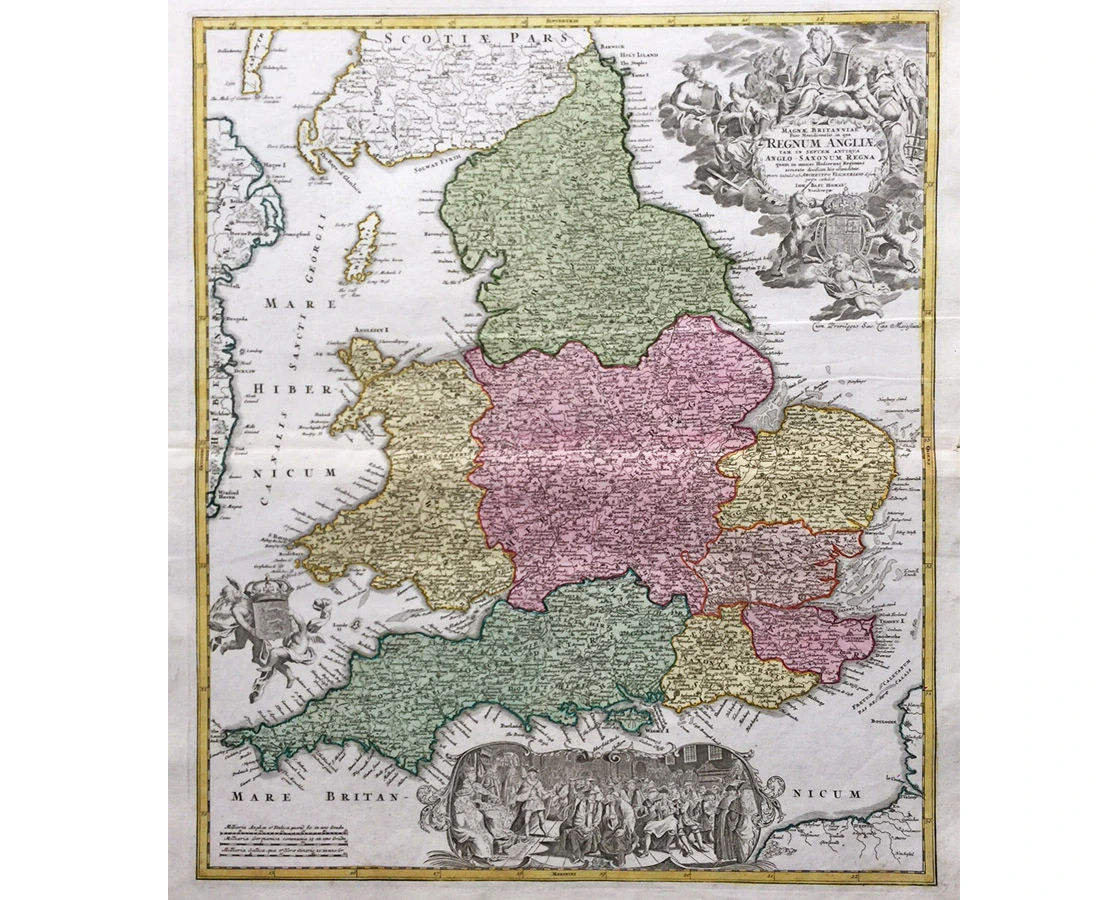 England and Wales – Copper engraving
J. B. Homann – c. 1737
'Magnae Britanniae pars Meridionalis in qua Regnum Angliae '
Detailed map of England and Wales from the Atlas Novus, ornamented in early full wash colour, by J. B. Homann based on Visscher's map of 1695. Although executed in the first half of the eighteenth century, the hand colouring shows England divided into its historic seven Anglo-Saxon kingdoms, rather than by county. The road network is marked and numerous place names are mapped. Wales is shown in full wash colour, though adjacent parts of Scotland, Ireland, France, and the Isles of Man are only coloured in outline. The map is further embellished by a large baroque title cartouche in the top right of the plate, featuring personifications of the muses as well as the arms of the Kingdom, supported by a lion and unicorn. Along the bottom of the plate, a large vignette shows a Royal assembly, the monarch, assumedly George I, seated on a throne to the left of the scene. Like most Homann maps, this example is undated, appearing in numerous editions of the Homann Atlas both during and after the lifetime of Johann Baptist Homann.
About the cartographer
Johann Baptist Homann (1664-1724) was a leading German geographer and cartographer who founded in 1702 his own publishing house. Homann produced hundreds of maps and developed a distinctive style characterized by heavy detailed engraving, elaborate allegorical cartouche work, and vivid hand color. The Homann firm, due to the lower cost of printing in Germany, was able to undercut the dominant French and Dutch publishing houses while matching the diversity and quality of their output.
By 1715 Homann's rising star caught the attention of the Holy Roman Emperor Charles the VI, who appointed him Imperial Cartographer. In the same year he was also appointed a member of the Royal Academy of Sciences in Berlin.
Following Homann's death in 1726, the management of the firm passed to his son Johann Christoph Homann (1703-1730). J. C. Homann, perhaps realizing that he would not long survive his father, stipulated in his will that the company would be inherited by his two head managers, Johann Georg Ebersberger and Johann Michael Franz, and that it would publish only under the name Homann Heirs. This designation, in various forms (Homannsche Heirs, Heritiers de Homann, Lat Homannianos Herod, Homannschen Erben, etc..) appears on maps from about 1731 onwards. The firm continued to publish maps in ever diminishing quantities until the death of its last owner, Christoph Franz Fembo in 1848.
The map is professionally framed using high quality and acid free materials.
H: 62 cm W: 53 cm (framed size 76 x 66 ½ cm)
H: 24" W: 21" (framed size 30 x26")