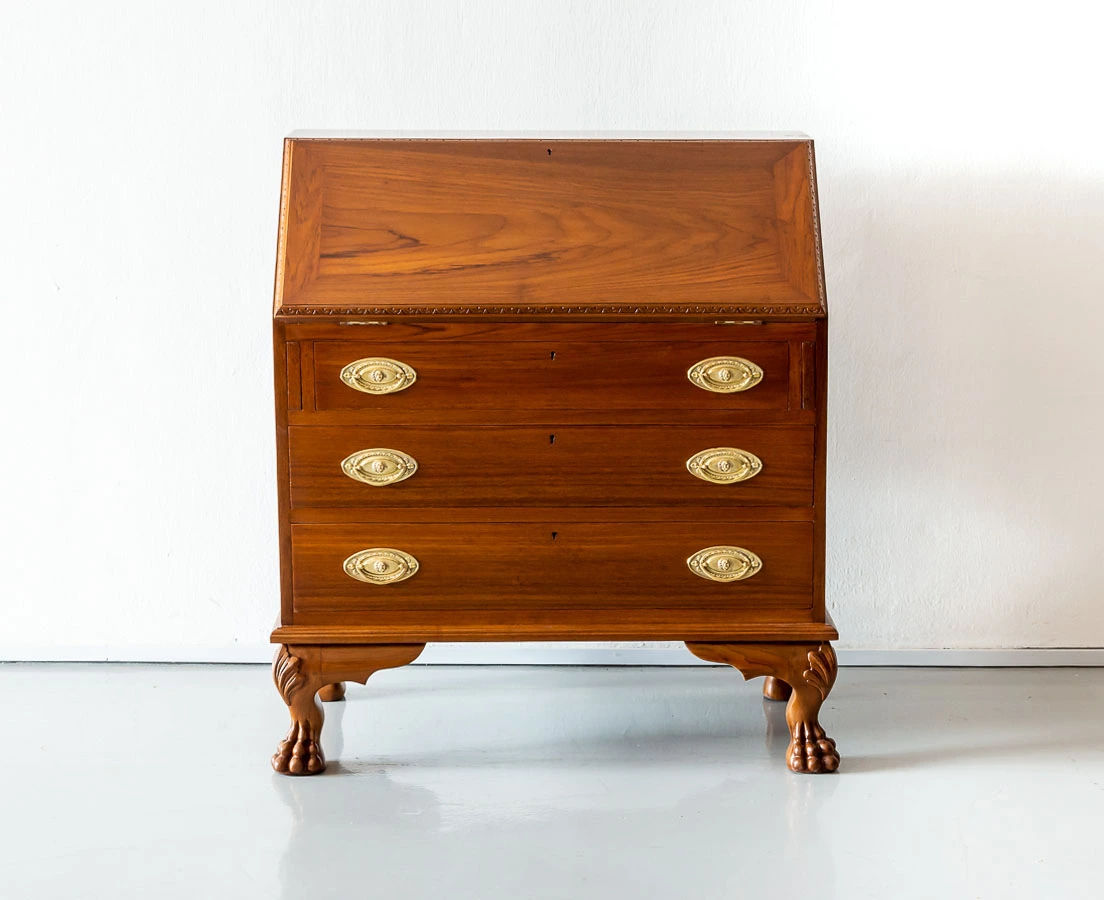 British Colonial Teakwood Fall Front Bureau
Late 19th century
An antique mid-sized British Colonial Teakwood fall front bureau. This piece stands on classic short cabriole legs with three drawers. Each drawer features an inlaid brass lock escutcheon with working lock and brass plate pulls stamped with lion head motif. When opened, lopers slide out to support the carved bordered fall front and reveal the well fitted interior with one drawer and 7 cubby holes.
With a brass plaque at the back which reads: Army and Navy C.S.L makers Bombay-London-Calcutta
Founded in 1871, both by and on behalf of British Army and Navy officers, the main purpose of the 'Army & Navy Co-operative Society Ltd' was the provision of various product and goods to its members at the lowest possible profitable rate of return at the time. Over the course of the 1870s and 80s the co-operative expanded the range of goods it provided to include such products and services as stationary, clothing and tailoring, groceries, guns, banking and furniture. The society became so successful that they also opened stores in Paris and Leipzig, before developing their initiatives even further afield in the Indian colonies during the 1890s
The desk is in good condition and has been lovingly restored and finished to its former glory using a traditional form of French polishing and waxing.
Find out more about Colonial Furniture here.
This desk has been sold. Please keep checking our website as we may add a similar piece.
Bombay
British colonial India
H: 106 cm W: 92 cm D: 51 cm Writing height: 76 cm
H: 42" W: 36" D: 20" Writing Height: 30"