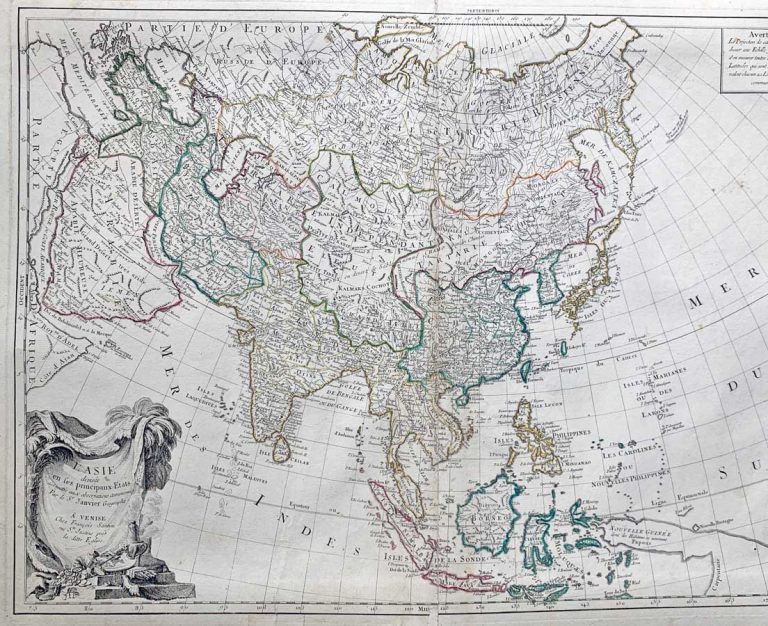 Asia-Copper engraving
Janvier & Santini 1778
L'Asie divisée en ses principaux Etats assujettie aux observations Astronomiq Par le Sr. Janvier Geographe À venise Chez François Santini rue St. Justine ptès la ditte Eglise
Striking and highly decorative unusual 1778 Santini's Italian edition of the Janvier's copper engraved map of Asia. The map covers the whole Continent, including the East Indies, the Arabian Peninsula, and the Mughal Empire centred on the Indian subcontinent. Reflecting limited European knowledge of the area at the time, the depiction of the island of New Guinea is much enlarged.
The map is of interest for the use of Mer de Corée for the sea between Korea and Japan. Further noteworthy topographical detail is shown. Shows New Guinea attached to Australia with a wildly speculative north-eastern coastline. The legend reads: "Nouvelle Guinée dont les Habitans se nomment Papous" ("New Guinea whose the inhabitants are named Papous"). The Nouvelle Philippines are alternatively identified as les Carolines. A large decorative title cartouche completes the map.
About the cartographer
Jean or Robert Janvier (1746 – 1776) was a Paris based cartographer active in the mid to late 18th century. Janvier true first name is a matter of debate, as it often appears as either Jean or Robert. More commonly, Janvier simply signed his maps Signor Janvier. By the late 18th century Janvier seems to have been awarded the title of "Geographe Avec Privilege du Roi" and this designation appears on many of his latter maps. Janvier worked with many of the most prominent French, English and Italian map publishers of his day, including Faden, Lattre, Bonne, Santini, Zannoni, Delamarche, and Desnos.
This map has been sold. Please keep checking our website as we regularly add new antique maps to our collection.
The map is professionally framed using high quality and acid free materials
H: 72 cm W: 50 cm (66 x 84 cm framed size)
H: 28 ½" W: 20" (26 x 33" framed size)