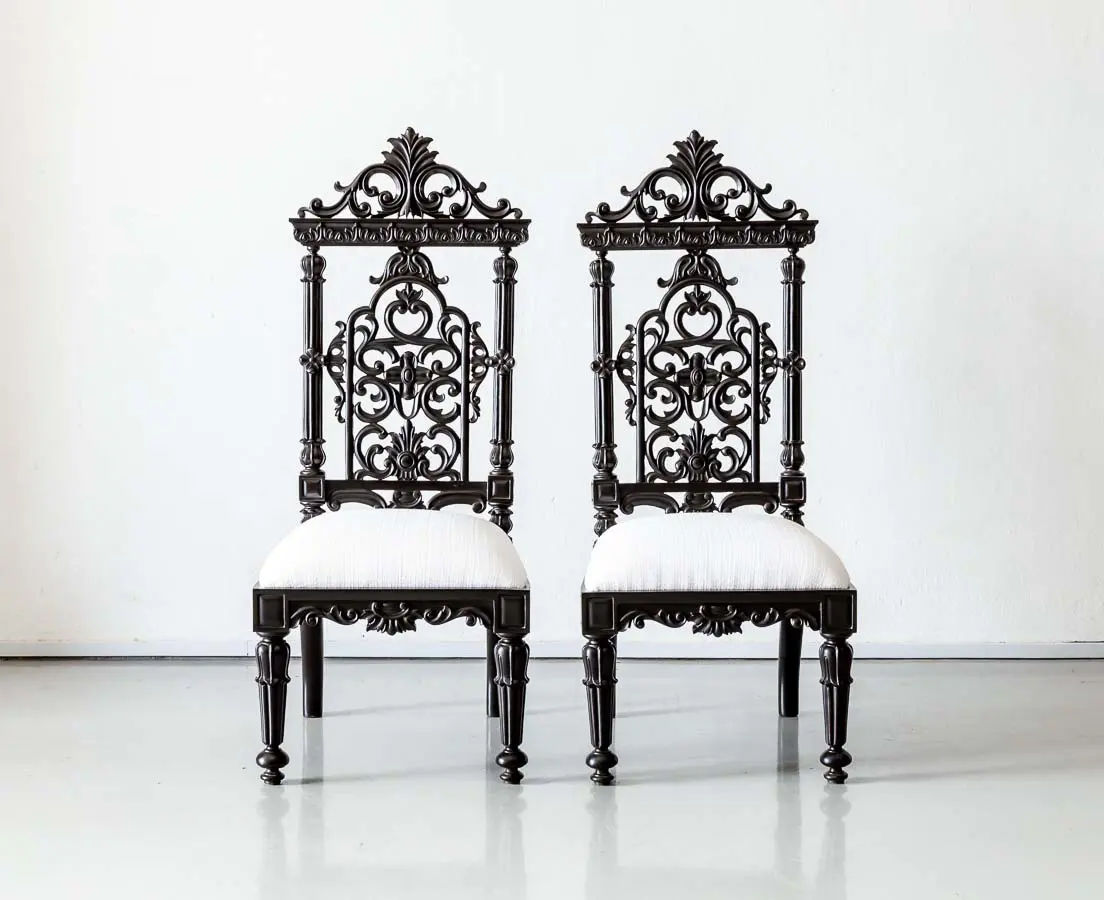 Pair of British Colonial Ebony Prie-Dieu chairs
Mid 19th century
An exceptional pair of British colonial prie-Dieu or prayer chairs made in ebony with an upholstered seat. The back with a carved and pierced floral design flanked by two solid pillars. The uprights of the back are also carved and pierced with a floral design.  The chairs feature a nicely shaped crest rail. The front and side seat reals are also relief carved, the front with a floral design. The front legs are turned and end in a rounded peg foot, the rear legs of square section are raked.
Prie-Dieu chairs were designed specifically for prayer. The low seat was meant to be used for kneeling, and the top rail which was usually upholstered, as an elbow rest or Bible support. This form was current in the mid 19th century. This example preserves the low seat and high back which is open and carved rather than upholstered.
Ebony has long been prized for its dense hardness, which lends itself for beautiful carving and a smooth finish after being polished. It is considered the aristocrat of hardwoods and is native to southern India and Sri Lanka. Ebony has always been a luxury wood and was so popular in 17th century France, that "ebenistes" is still the French word for cabinet maker. Furniture pieces of lesser woods were often "ebonized" (painted black) to make them look as if made of ebony.
The chairs are in good condition and has been lovingly restored and finished to its former glory using a traditional form of French polishing and waxing.
Find out more about Colonial Furniture.
These chairs have been sold. Please keep checking our website as we may add a similar pair.
Malabar Coast
British colonial India
H: 116 cm SH: 41 cm W: 49 cm D: 49 cm
H: 45½" SH: 16" W: 19" D: 19"