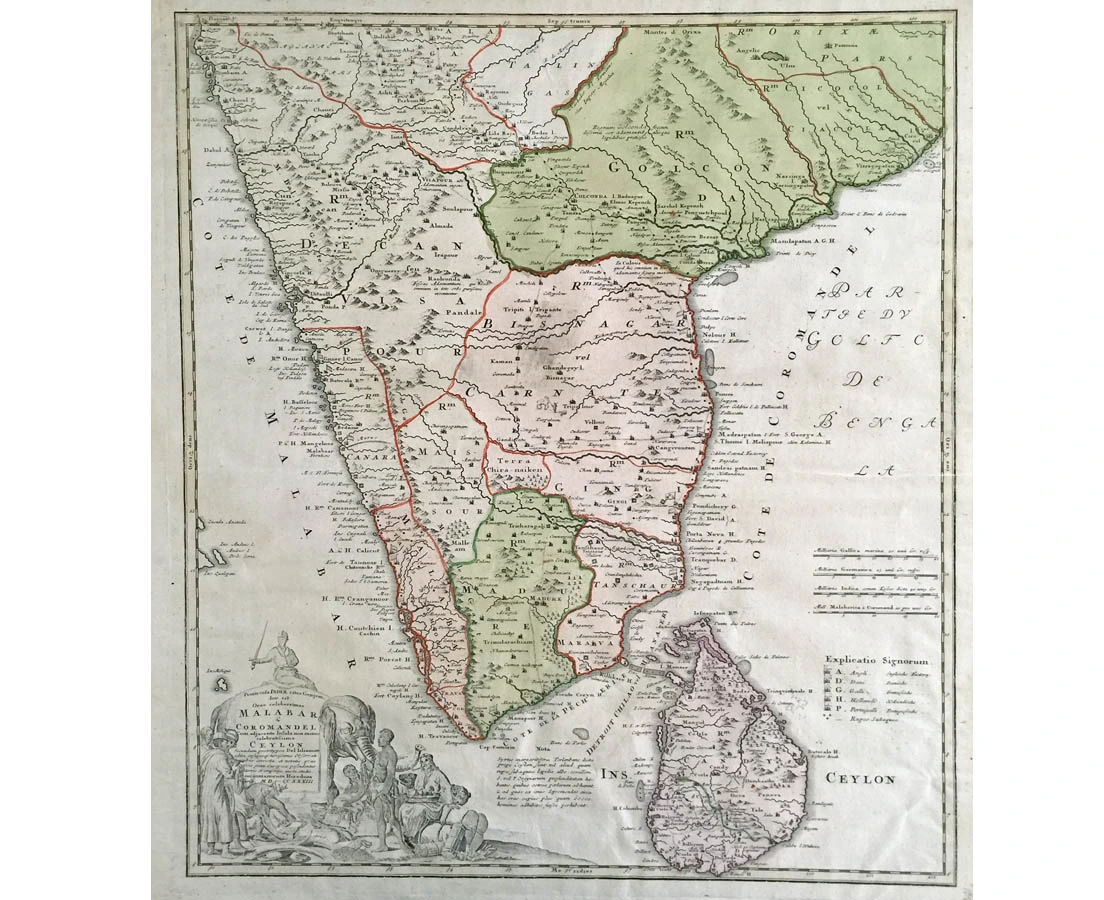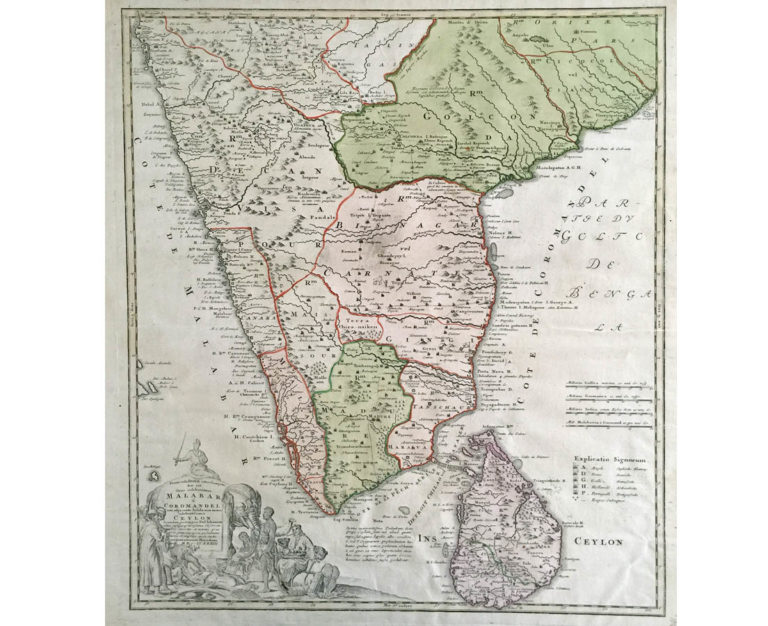 India & Sri Lanka-Copper engraving
Homann Heirs – 1733
Striking and highly detailed rare copper engraved map of India and Ceylon issued in 1733 by the Homann Heirs. Covers the subcontinent roughly from Bombay South to Cape Comorin and includes all of Ceylon (Sri Lanka). Homan offers good detail along the coast naming numerous ports and, where appropriate, appending either an English, French, Danish, Dutch or Portuguese flag to indicate the European power laying claim to that port. The interior is more vague, though many of the major caravan routes are noted, if only speculatively. There are numerous annotations in Latin throughout.
Homann also identifies various battle sites associated with the southward progress of the Mughal Empire in 1707. When Homann drew this map, only Madras, Malabar, Ceylon, and the European ports remained independent of Mughal control.
A large title cartouche depicting Indian traders and an elephant appears in the lower left quadrant.
About the Cartographer
Johann Baptist Homann (1664-1724) was a leading German geographer and cartographer who founded in 1702 his own publishing house.
Homann produced hundreds of maps and developed a distinctive style characterized by heavy detailed engraving, elaborate allegorical cartouche work, and vivid hand color. The Homann firm, due to the lower cost of printing in Germany, was able to undercut the dominant French and Dutch publishing houses while matching the diversity and quality of their output. By 1715 Homann's rising star caught the attention of the Holy Roman Emperor Charles the VI, who appointed him Imperial Cartographer. In the same year he was also appointed a member of the Royal Academy of Sciences in Berlin.
Following Homann's death in 1726, the management of the firm passed to his son Johann Christoph Homann (1703-1730). J. C. Homann, perhaps realizing that he would not long survive his father, stipulated in his will that the company would be inherited by his two head managers, Johann Georg Ebersberger and Johann Michael Franz, and that it would publish only under the name Homann Heirs. This designation, in various forms (Homannsche Heirs, Heritiers de Homann, Lat Homannianos Herod, Homannschen Erben, etc..) appears on maps from about 1731 onwards. The firm continued to publish maps in ever diminishing quantities until the death of its last owner, Christoph Franz Fembo in 1848.
This map has been sold.Please keep checking our website as we regularly add new antique maps to the site.
The map is professionally framed using high quality and acid free materials
H: 53 cm W: 62 ½ (70 x 64 cm framed size)
H: 21" W: 24 ½" (27 ½ x 25" framed size)