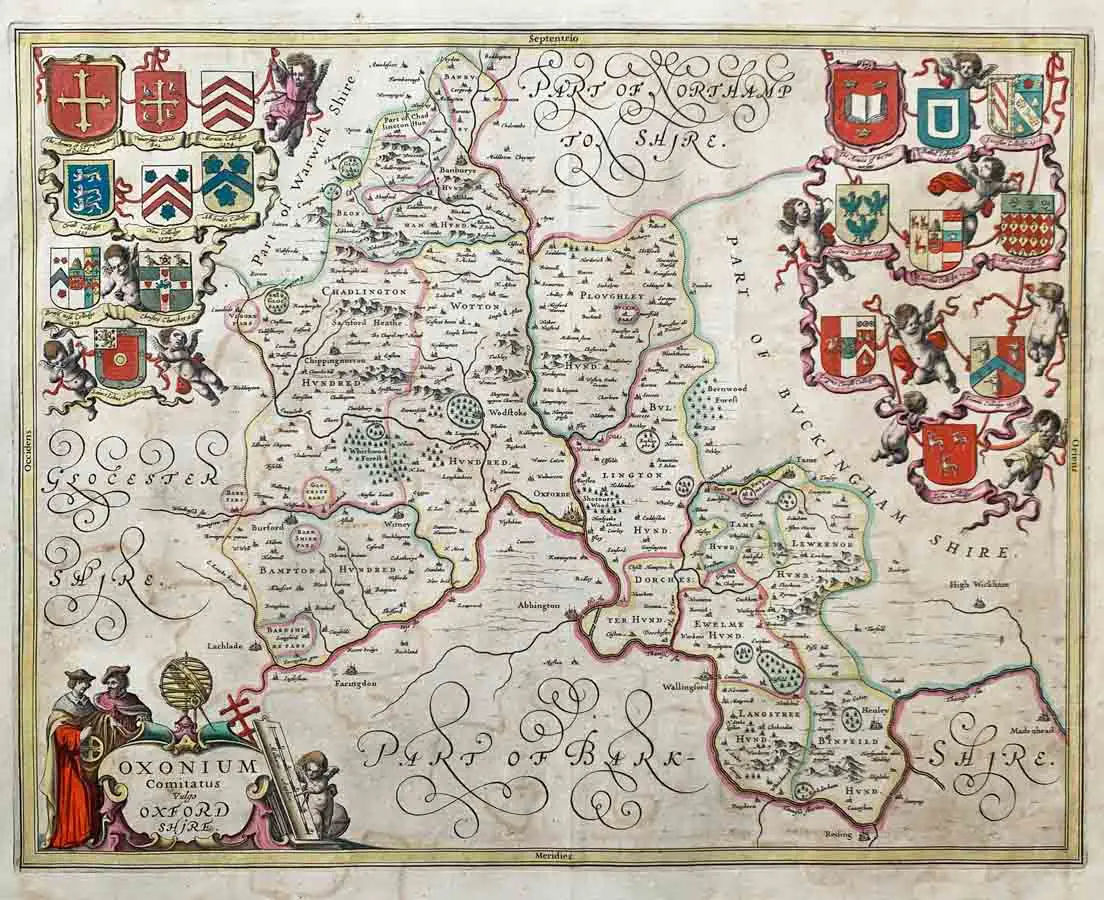 Oxfordshire England – Copper Engraving
Janssonius – c. 1650
Title:
Oxonium Comitatus vulgo Oxford shire.
A hand coloured double-page engraved map of Oxfordshire from Janssonius's Atlas Novus. The map shows Oxfordshire, with the Thames valley forming its southern boundary. Towns marked on the map include Oxford, Abington, Faringdon, Reading, Henley, High Wycombe, Thame, Banbury, Woodstock and Witney; and the Cotswolds towns of Burford & Chipping Norton. In the bottom left a figurative title cartouche with two scholars and a cherub examining a cartographic tool that rests against the title cartouche. The map is further ornamented with a ribboned array of armorials of the colleges of the University of Oxford, held up by a host of cherubs.
About the Cartographer
Johannes Janssonius (1588- 1664) born Jan Janszoon  (in English often incorrect Jan Jansson) was a Dutch cartographer and publisher who lived and worked in Amsterdam in the 17th century.
He produced his first maps in 1616 of France and Italy. In 1623 Janssonius owned a bookstore in Frankfurt am Main later also in Danzig, Stockholm, Copenhagen, Berlin, Geneva and Lyon.  In the 1630s he formed a partnership with his brother in law henricus Hondius and together they published atlases as Mercator/Hondius/Janssonius.
Under the leadership of Janssonius the Hondius Atlas was steadily enlarged. Renamed Atlas Novus, it had three volumes in 1638, one fully dedicated to Italy. 1646 a fourth volume came out with "English County Maps", a year after a similar issue by Willem Blaeu. Janssonius' maps are similar to those of Blaeu, and he is often accused of copying from his rival, but many of his maps predate those of Blaeu and/or covered different regions. By 1660, at which point the atlas bore the appropriate name 'Atlas Major', there were 11 volumes, containing the work of about a hundred credited authors and engravers. It included a description of "most of the cities of the world" (Townatlas), of the waterworld (Atlas Maritimus in 33 maps), and of the Ancient World (60 maps).
After Janssonius's death, the publishing company was continued by his son-in law, Johannes van Waesbergen.
This map has been sold. Please keep checking our website as we may add a simlar map.
The map is professionally framed using high quality and acid free materials
H: 38 cm W: 49 cm image size ( 54 ½ x 66 cm framed size)
H: 15" W: 19 ½" image size ( 21 ½ x 26" framed size)