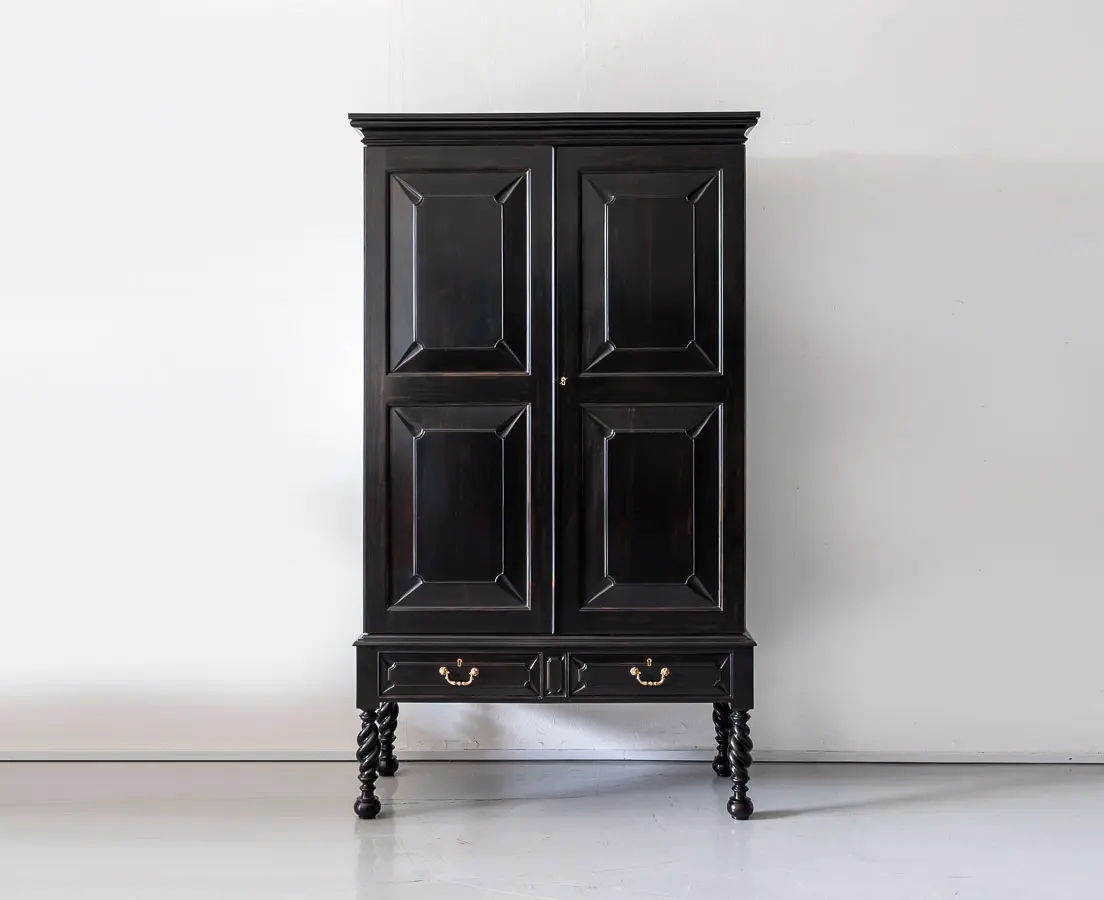 Portuguese Colonial Ebony Cupboard on Stand
Mid 19th century
SGD 12,500
A beautiful Portuguese colonial cabinet on stand made of ebony with an overhanging rectangular top. The double doors, made of beautifully grained planks, have four raised and fielded panels carved in a pattern exclusive to Portuguese India. They open to an interior with three shelves while the base houses two drawers, each with a nice brass handle. The sides and the stand also have the same design fielded panels. The piece stands on four spirally turned legs ending in bun feet.
The cupboard is in good condition and has been lovingly restored and finished to its former glory using a traditional form of French polishing and waxing. The drawer sides and bottom are made of teakwood and attached with fine dovetails to the ebony drawer front. The backside of the cupboard has also been made of teakwood.
Ebony has long been prized for its dense hardness, which lends itself for beautiful carving and a smooth finish after being polished. It is considered the aristocrat of hardwoods and is native to southern India and Sri Lanka. Ebony has always been a luxury wood and was so popular in 17th century France, that "ebenistes" is still the French word for cabinet maker. Furniture pieces of lesser woods were often "ebonized" (painted black) to make them look as if made of ebony.
Find out more about Portuguese Colonial Furniture.
We are pleased to arrange shipping worldwide. Please add the item to your shopping cart and request for a shipping quote with no obligation. Delivery in Singapore is free of charge.
Goa
Portuguese colonial India
H: 213 cm W: 124 cm D: 56 cm
H: 84" W: 49" D: 22"