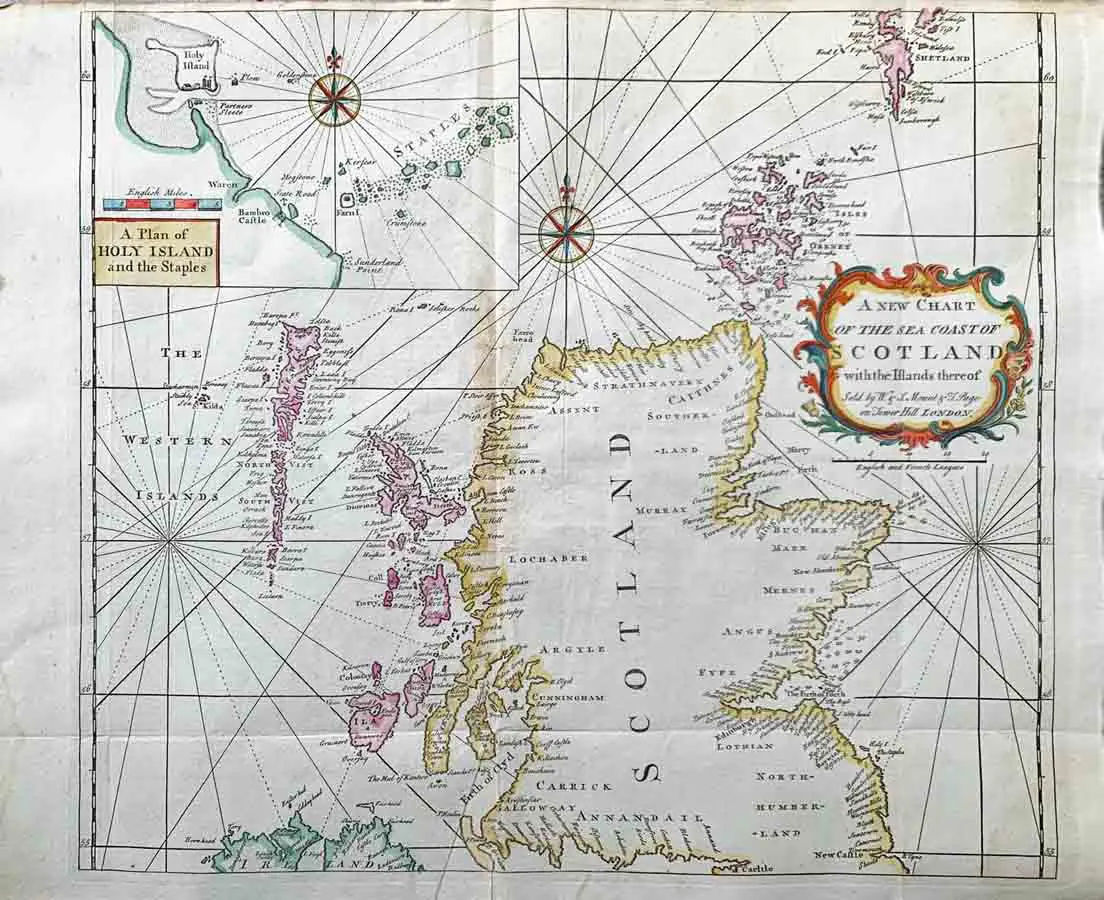 Sea Chart of Scotland – Copper engraving
Mount and Page – 1750 (undated)
A New Chart of the Sea Coast of Scotland with the Islands thereof Sold by W. and I. Mount and T. Page on Tower Hill London.
Striking and detailed fine unusual 1750 Mount and Page's copper engraved sea chart or nautical map of Scotland. Includes also part of northern Ireland. The chart provides excellent coastal details as well as soundings and depths. An inset map, to the top left quadrant, is titled "A Plan of Holy Island and the Staples". A drape-style title cartouche, a mileage scale and two compass roses radiating rhumb lines complete the chart.
About the Cartographer
Mount and Page was a London based firm of religious and maritime publishers founded in 1701 by Richard Mount (1654–1722) and Thomas Page. The name became well-known worldwide as an imprint of nautical charts.
Mount had previously been in partnership with his father-in-law William Fisher (1631–1692) and inherited the business on the latter's death. As Mount and Page, the firm flourished throughout the 18th century and made the fortunes of both families, helped by government contracts. Successive generations of Mounts and Pages worked in the business, and the families intermarried. One of its staple titles was Navigatio Britannica by John Barrow, published in 1750 and still being advertised in 1787.
Richard Mount's great grandson William (1753–1815) was the last to work in the business. And later generations went into politics.
This map has been sold. View other  Antique Maps.
The map is professionally framed using high quality and acid free materials
H: 47 cm W: 53 cm image size ( 64 x 75 cm framed size)
H: 18 ½" W: 21" image size ( 25 "x 29 ½" framed size)