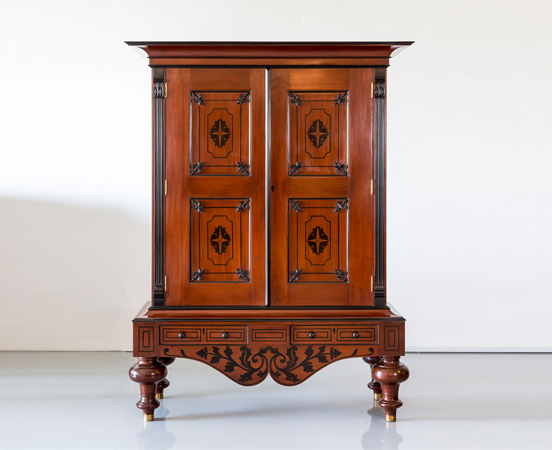 Dutch Colonial Mahogany & Ebony Cupboard
Late 19th century
A beautiful antique Dutch colonial cupboard in mahogany with a deep flaring cornice with an ebony moulded edge above a short ebony frieze.
The double doors are constructed with fielded panels inlaid at centre with a design in ebony, surrounded by ebony lining and a moulded ebony edge with ebony fleur-de-lis in the four corners. The doors, which are flanked by ebony pilasters, open to an interior with two shelves.
The lower section of the cabinet has a moulded ebony edge and two drawers in the frieze with ebony inlay and pulls. The scalloped apron is decorated with ebony foliage. The legs are in a traditional Dutch style with a bulbous top, tapering, with a ring and ending in a peg foot.
The cupboard is in excellent condition and has been lovingly restored and finished to its former glory using a traditional form of French polishing and waxing. The mahogany has a rich warm shade with a striking grain.
Read more about Colonial Furniture here.
This cupboard has been sold. Please keep checking our website as we may add a similar piece.
Coromandel coast
Dutch colonial India
H: 180 cm W: 127 cm D: 54 cm
H: 71" W: 50" D: 21½"