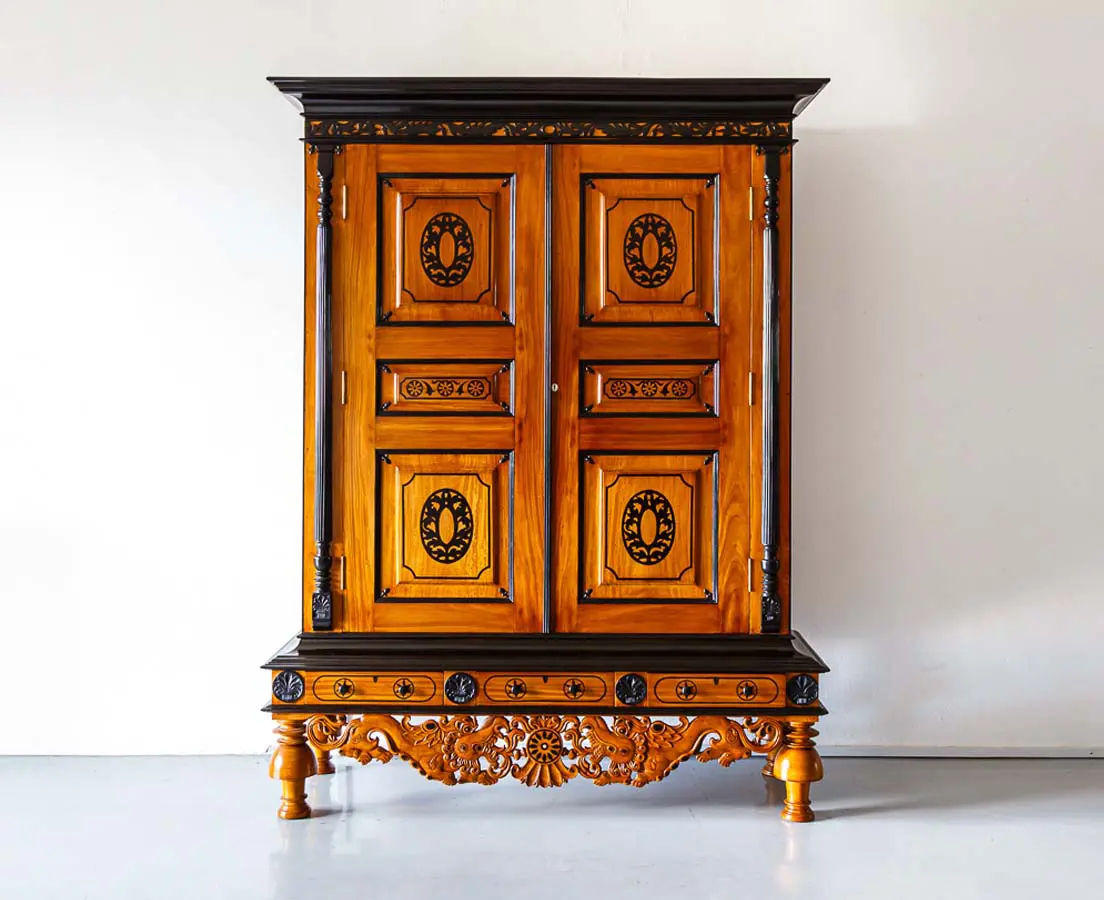 Dutch Colonial Satinwood & Ebony Cupboard
Late 19th century
A stunning Dutch colonial cupboard, fully made in beautifully grained satinwood. It features a deep flaring cornice with an ebony moulded edge above a short ebony frieze. The double doors are constructed with fielded panels inlaid at centre with a design in ebony, surrounded by ebony lining and a moulded ebony edge with ebony fleur-de-lis in the four corners. The sides also with fielded panels and ebony inlay and lining. The doors, which are flanked by ebony pilasters, open to an interior with three shelves and three drawers with brass handles. The lower section of the cabinet has a moulded ebony edge and three inlaid drawers in the frieze, each with 2 ebony pulls. The satinwood apron is intricately carved in the shape of two male lions facing each other, with details inlaid in ebony. The legs are in a traditional Dutch style with a bulbous top, tapering, with a ring and ending in a peg foot.
Satinwood was the most beautiful and highly valued wood used in the latter part of the 18th century and is perhaps the most widely known of decorative timbers. It is a highly figured, close-grained, hard and durable wood native to Ceylon and the East Indies. It is light yellow to golden brown in color with a lustrous satin-like quality and has an excellent finish. One other characteristic of satinwood is its aroma. When cut and worked it smells like coconut oil. Satinwood was an expensive timber, and it was used, on the whole only for special pieces (like this cupboard!) for wealthy clients.
Find out more about Dutch Colonial Furniture.
This satinwood cupboard has been sold. Please keep checking our website as we may add a similar piece.
Coromandel coast
Dutch colonial India
H: 225 cm W: 173 cm D: 60 cm
H: 88½" W: 68" D: 23½"