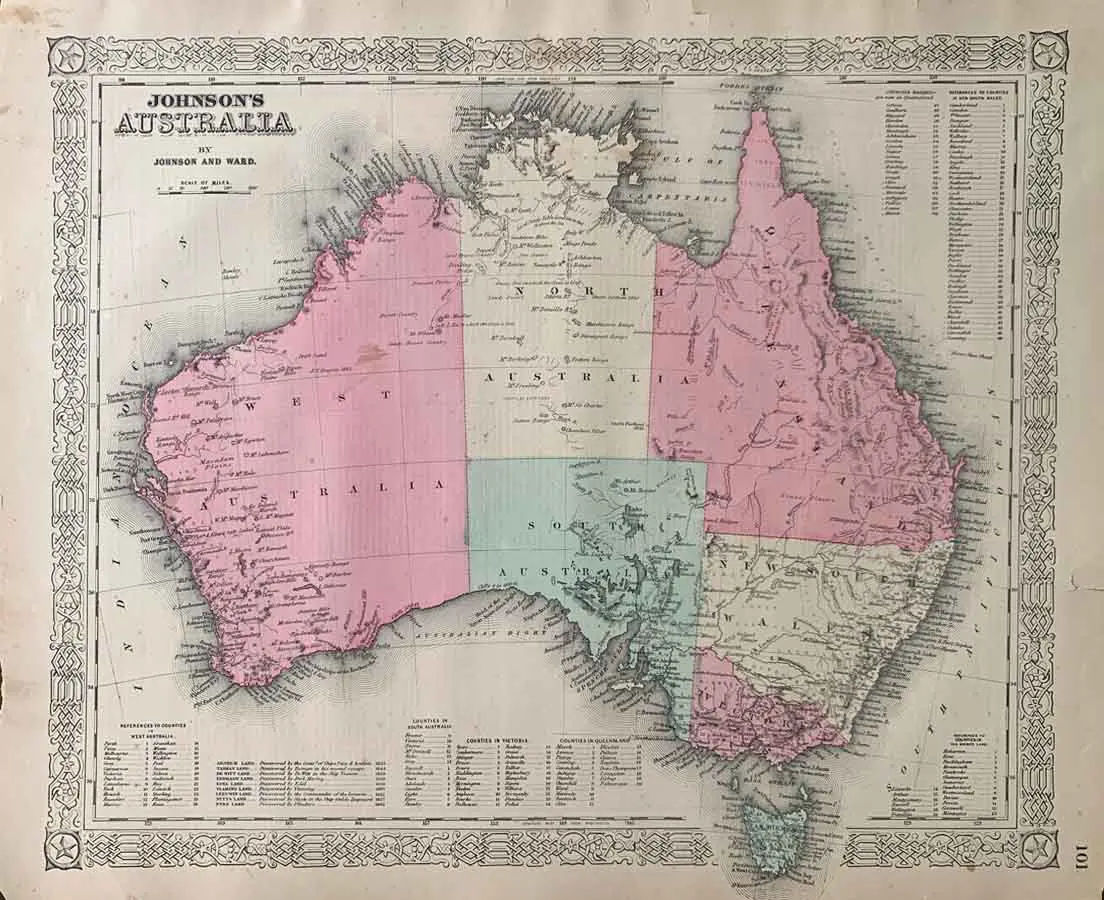 Australia – Steel Engraving
A. J. Johnson - 1865
A detailed and fine steel engraved antique map of Australia, depicting the continent with good detail along the coast and a largely unexplored interior. With index of counties in West Australia, South Australia, Victoria, Queensland, New South Wales and Van Diemen's Land.
Tables in the corner show references to various counties in each provinces. A smaller table in the lower left shows a timeline for the exploration of the continent, noting the dates associated with important navigators including Tasman, Arnhem, Hartog, Edel and others. Features the fretwork style border common to Johnson's atlaswork 1863-1869 Published by Johnson and Ward.
 About the cartographer
Alvin Jewett Johnson (1827-1884) was an American map publisher active from 1856 to the mid 1880s. He got his first taste of the map business as a salesman and map canvasser for J.H. Colton and company and it is speculated that Colton sold his copyrights to Johnson and his business partner Ross C. Browning. The first Johnson atlas maps were mostly reissues of earlier Colton maps and it was not until 1860 that the Johnson firm published its first significant work, the Johnson's New Illustrated Family Atlas. Johnson maps from the Family Atlas are notable for their unique borders, of which there are four different designs, the "strapwork border" from 1860 to 1863, the "fretwork border" from 1863 to 1869 and the "spirograph border in 1870-1882. In addition to the Family Atlas Johnson issued numerous wall maps, pocket maps, and in the 1880s the Cyclopedia.
The 1864 issue of the Atlas is the first true Johnson and Ward atlas. Johnson published one more edition in partnership with Ward in 1865, after which Johnson becomes the sole publisher. The next issue of the Atlas, 1866, is the first purely Johnson atlas with all new map plates, updated imprints, and copyrights. Johnson maps include a unique border style, which changed over the years, but was not copied by other makers. These include a "strapwork border" from 1860 to 1863, a "fretwork border" from 1863 to 1869 and a "spirograph border" in 1870.
View more Antique Maps.
The map is professionally framed using high quality and acid free materials.
H: 35 cm W: 41 cm image size ( 53 x 60 cm framed size)
H: 14" W: 16" image size ( 21" X 23 ½" framed size)