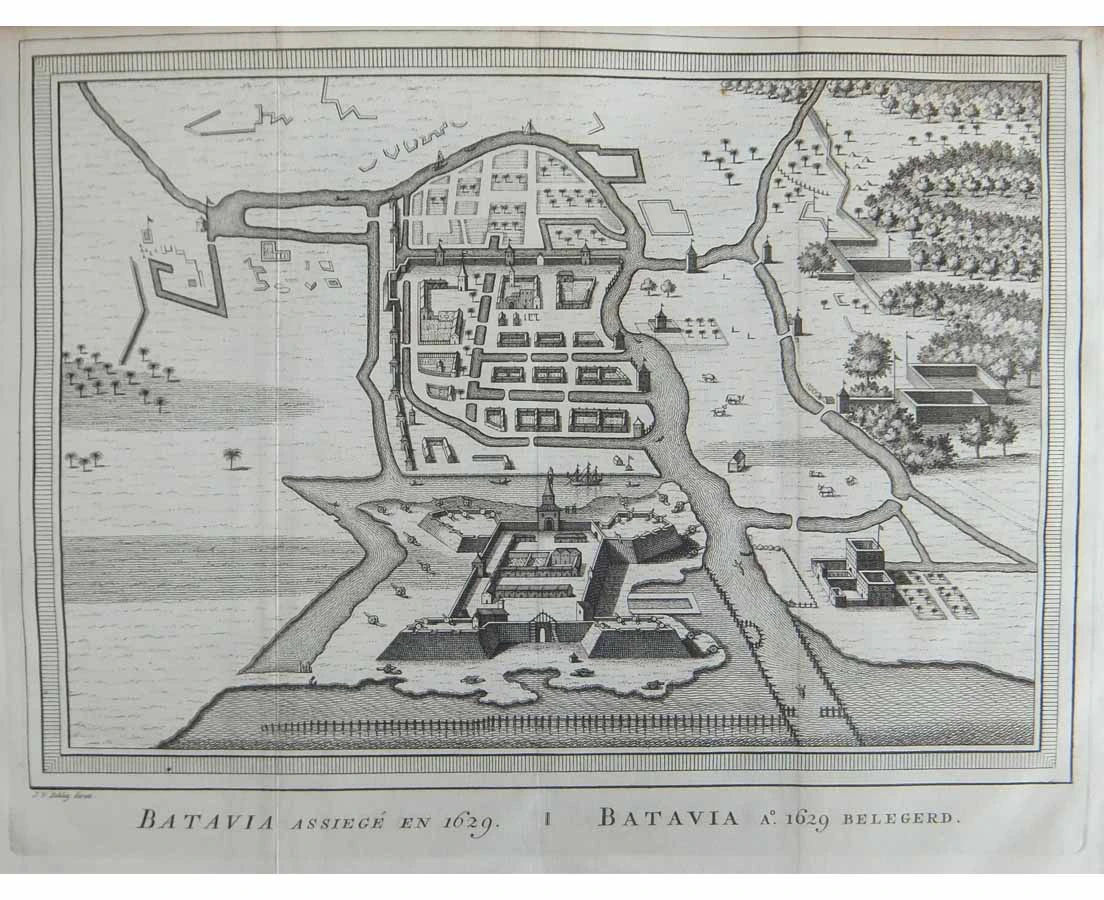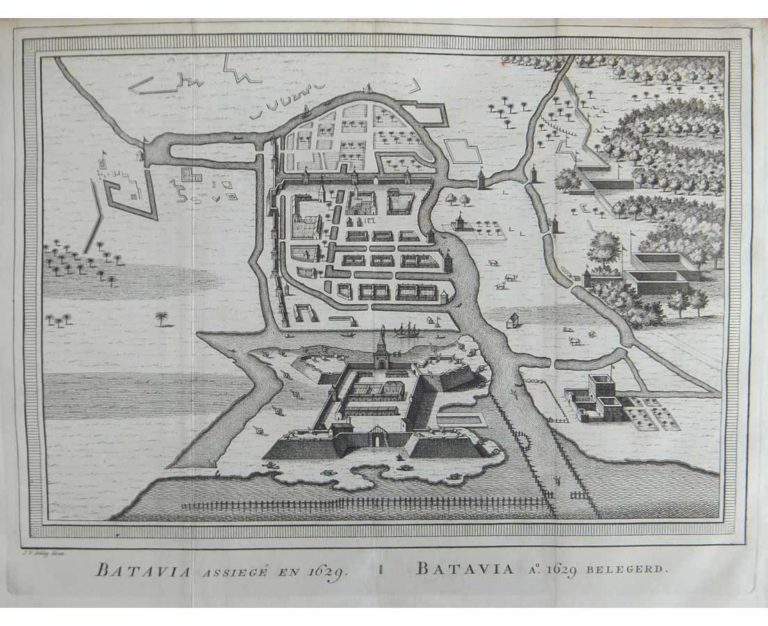 Batavia – Copper Engraving
J.N. Bellin /J. van der Schley – 1750
Bellin's bird's eye view map of the siege of Batavia (Jakarta, Indonesia) in 1629 engraved by Jacob van der Schley. In 1628 and 1629, the sultan of the Materam people attempted to lay siege to the settlement of Batavia, failing both times. This maps mark the event, although the siege is not depicted. Jean Nicolas Bellin provided a huge number of maps for L'Abbe Prevost's 'Histoire générale des Voyages', a 25 volume plus work describing the discoveries, journeys and settlements of seventeenth and early eighteenth century European powers. Many of these maps were issued in Dutch and German as well as in French.
About the cartographer
Jacques Nicolas Bellin (1703 – 1772) was a French hydrographer, geographer and member of the French intellectual group called the philosophes.In 1721, at age 18, he was appointed chief cartographer to the French Navy. In August 1741, he became the first Ingénieur de la Marine of the Depot des cartes et plans de la Marine (the French Hydrographical Office) and was named Official Hydrographer of the French King.During his period the Depot published a considerable number of charts and maps among which  a large folio format sea-chart of France, the Neptune Francois. His maps of Canada and of French territories in North America (New France, Acadia, Louisiana) are particularly valuable. He also produced a number of sea-atlases of the world, e.g., the Atlas Maritime and the Hydrographie Francaise and smaller format maps such as the 1764 Petit Atlas Maritime (5 vols.) containing 580 finely detailed charts.Bellin set a very high standard of workmanship and accuracy thus gaining for France a leading role in European cartography and geography.
This antique map has been sold. Please keep checking our website as we may add a similar map.
The map is professionally framed using high quality and acid free materials.
H: 24 cm W: 32 cm
H: 9 ½" W: 12 ½"