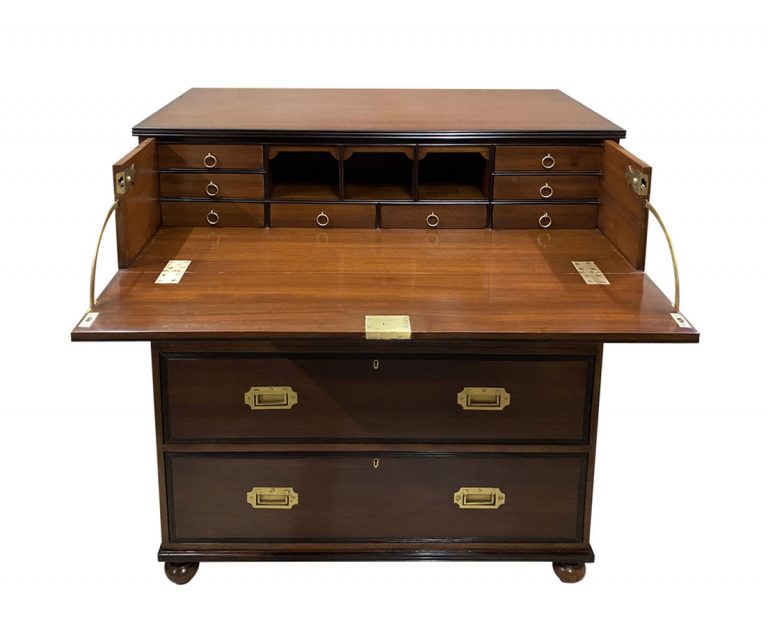 British Colonial Teakwood Secretaire Chest of Drawers
Mid 19th century
A British colonial campaign secretaire chest of drawers in two parts, made of teakwood with rosewood lining. The top drawer of the top part folds open to a writing surface and reveals an interior fitted with eight drawers and three pigeonholes. The lower section has two deep long drawers and rests on bun feet. The drawer fronts are moulded with a nicely contrasting rosewood trim and all of the drawers are flush fitting with the original recessed brass handles. The piece is solidly constructed of single planks of beautifully grained teakwood with iron lift handles on the sides.
The chest of drawers is in good condition and has been lovingly restored and finished to its former glory using a traditional form of French polishing and waxing.
Campaign or "knock down" furniture was portable military furniture and used by British officers when they set out for a campaign in India. However, because campaign furniture was extremely versatile, it also appealed to home owners who appreciated its elegance, strength and ease of storage.
Find out more about Campaign Furniture.
This secretaire chest of drawers has been sold. Please keep checking our website as we may add a similar piece.
Calcutta
British colonial India
H: 104 cm W: 94 cm D: 46 cm