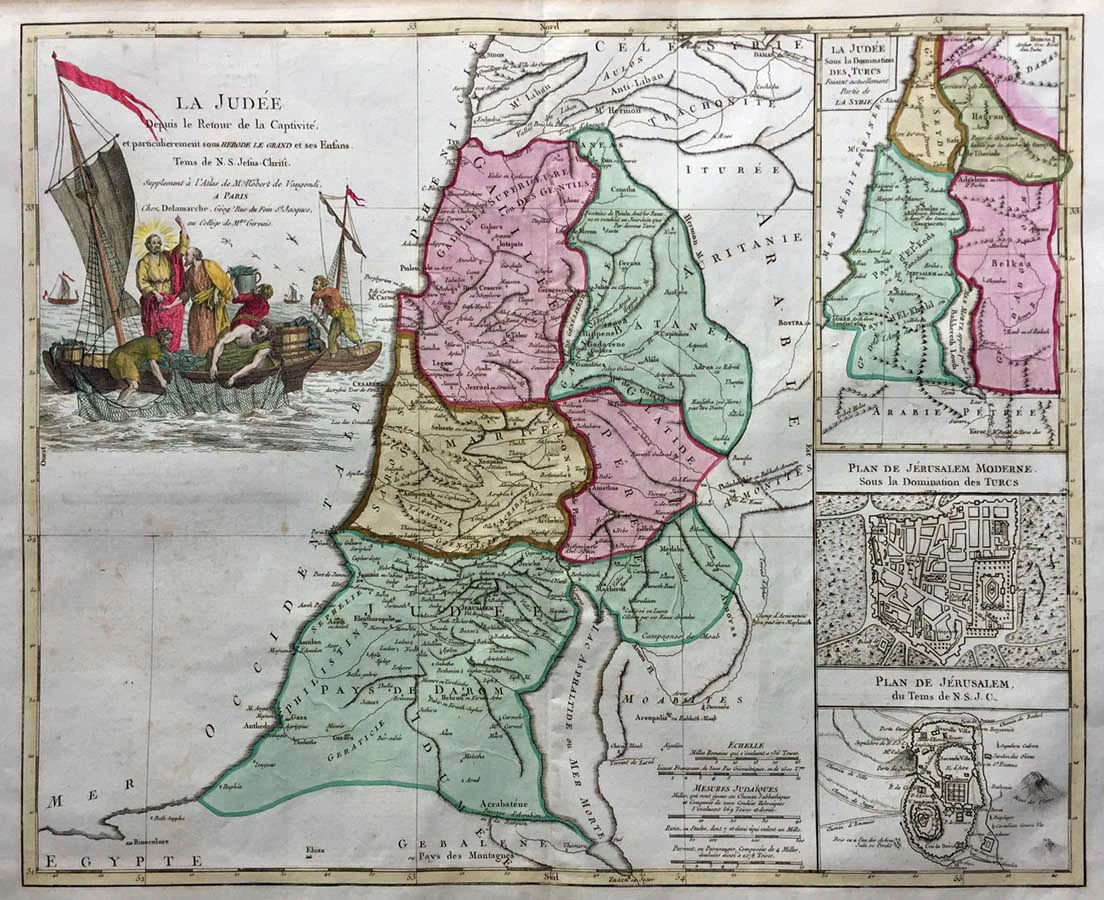 Israel, Palestine or Holy Land-Copper engraving
Delamarche – 1760-1790
La Judée Depuis le Retour de la Captivité, et particulierement sous Herode Le Grand et ses enfans.
Original and rare geographical map of Israel, Palestine or the Holy Land by Delamarche. It covers from the ancient city of Sidon in modern day Lebanon south as far as Rinocolure and Raphia (Gaza). Includes the modern day countries of Israel, Lebanon and Jordan. The map includes three insets along the right border. These feature Judea under the Turks, Plan of Jerusalem, under the dominion of the Turks and Jerusalem during the time of Jesus Christ. Throughout, the map notes important towns, cities, rivers, ruins, mountains and other topographical features.
A beautiful and elaborate illustration depicting Jesus with the fishermen appears in the top left quadrant along with the title. This map was drawn by Delamarche and published as a supplement to the Atlas Universel of M. Robert de Vaugondy.
About the cartographer
Charles Francois Delamarche (1740-1817) founded the important and prolific Paris based Maison Delamarche map publishing firm in the late 18th century. A lawyer by trade Delamarche entered the map business with the acquisition from Jean-Baptiste Fortin of Robert de Vaugondy's map plates and copyrights. Where Vaugondy could not make ends meet as a geographer, Delamarche prospered as a map publisher, acquiring most of the work of earlier generation cartographers Lattre, Bonne, Desnos, and Janvier, thus expanding significantly upon the Vaugondy stock. Charles Delamarche eventually passed control of the firm to his son Felix Delamarche and geographer Charles Dien (1809-1870). It was later passed on to Alexandre Delamarche, who revised and reissued several Delamarche publications in the mid-19th century. The firm continued to publish maps and globes until the middle part of the 19th century.
This antique map has been sold. Please keep checking our website as we may add a similar map.
The map is professionally framed using high quality and acid free materials.
H: 52 cm x W: 68 cm ( 65 x 76 cm framed size)
H: 21" x W: 27" ( 25 ½ x 30" framed size)