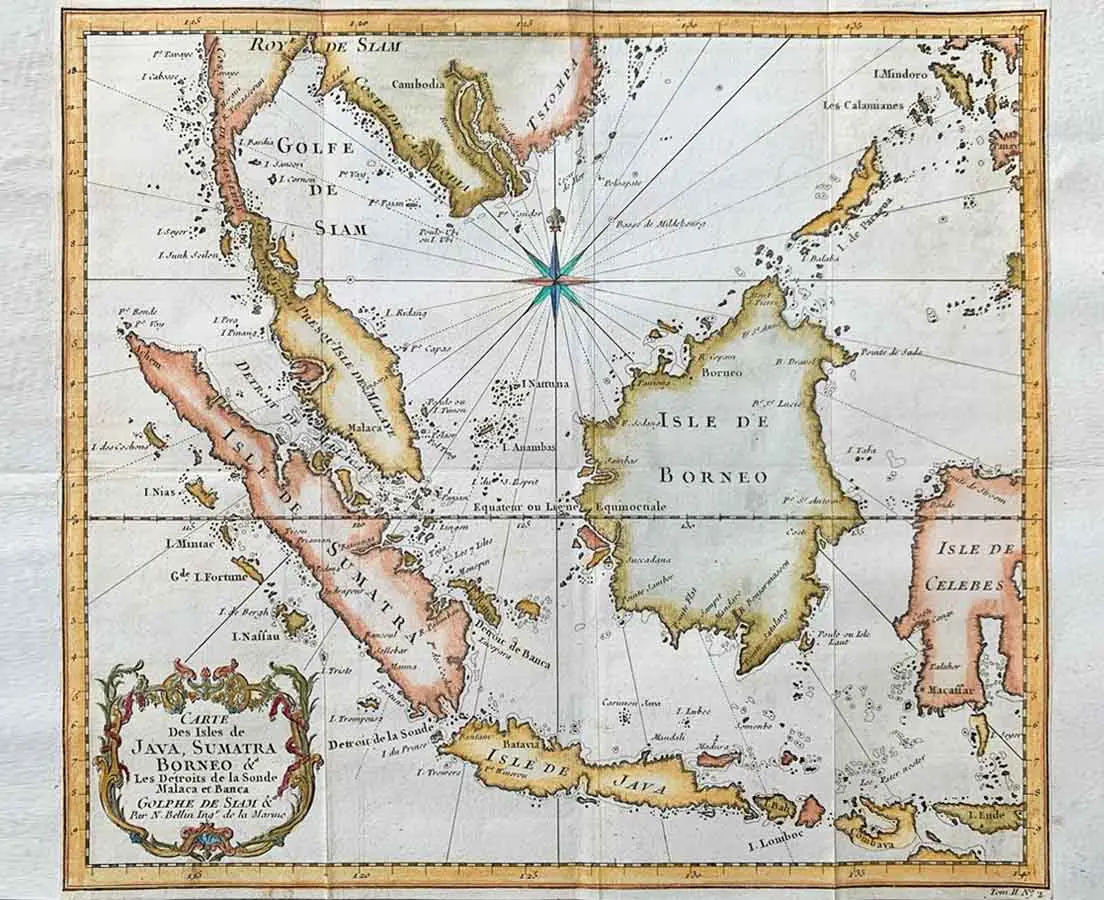 South East Asia – Copper engraving
J.N. Bellin c. 1749
SGD 850
Title: Carte des Isles de Java, Sumatra et Borneo et les Detroits de la Sonde Malaca et Banca, Golphe de Siam…

A fine detailed antique map of Southeast Asia, extending from the Gulf of Siam and Mindoro to Timo, Java and Sumatra, centred on Borneo and the Malay Peninisula. Large decorative compass rose and cartouche. Published in this form as map no 2 in the second volume of Abbé Prevost's 'Histoire générale des voyages'.
About the cartographer
Jacques Nicolas Bellin (1703 – 1772) was a French hydrographer, geographer and member of the French intellectual group called the philosophes.
In 1721, at age 18, he was appointed chief cartographer to the French Navy. In August 1741, he became the first Ingénieur de la Marine of the Depot des cartes et plans de la Marine (the French Hydrographical Office) and was named Official Hydrographer of the French King.
During his period the Depot published a considerable number of charts and maps among which a large folio format sea-chart of France, the Neptune Francois. His maps of Canada and of French territories in North America (New France, Acadia, Louisiana) are particularly valuable.
He also produced a number of sea-atlases of the world, e.g., the Atlas Maritime and the Hydrographie Francaise and smaller format maps such as the 1764 Petit Atlas Maritime (5 vols.) containing 580 finely detailed charts. He also contributed a number of maps for the 15-volume Histoire Generale des Voyages of Antoine François Abbé Prévost.
Bellin set a very high standard of workmanship and accuracy thus gaining for France a leading role in European cartography and geography.
The map is professionally framed using high quality and acid free materials
H: 26 cm W: 30 cm (42x 46 cm framed size)
H: 11" W: 11 ½" (16 ½ x 18" framed size)