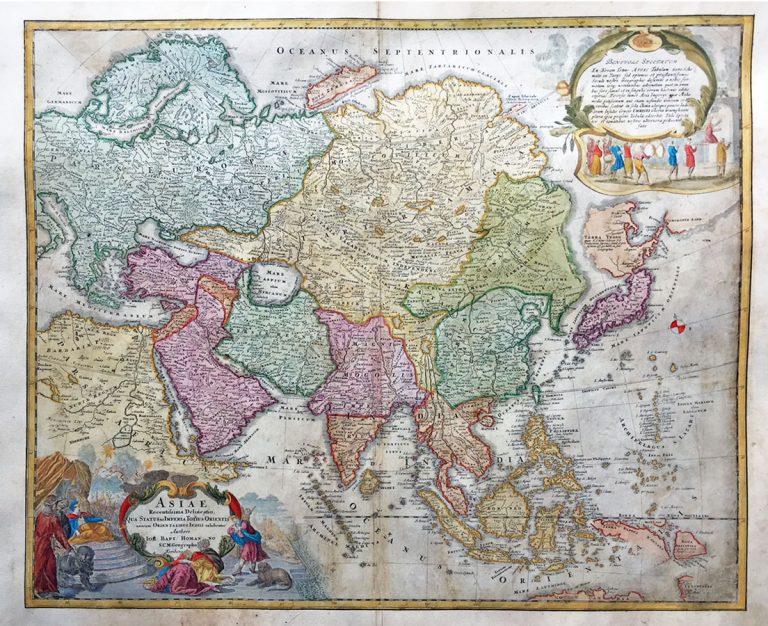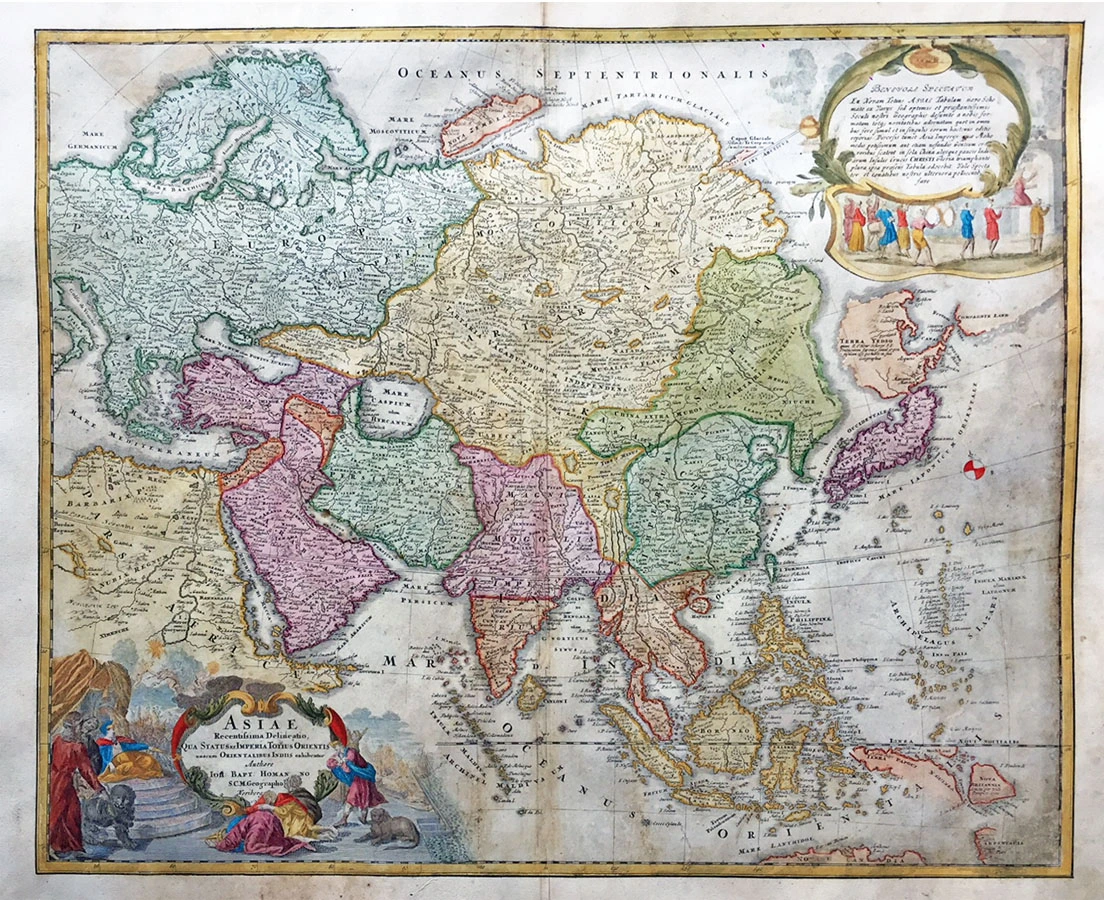 Asian Continent-Copper engraving
Johan Baptist Homann – 1720
Striking and highly detailed fine example of Homann's first copper engraved map of Asia, extending from the Mediterranean to the Pacific. Includes the northern tip of Australia (Nova Hollandia) Carpentaria, Nova Britannia and the Marianas. Hokkaido is identified as Terra Yedso and the fictional Compagnie Land, to the northeast of Japan.
An accompanying note acknowledges Scherer as the source, although the orientation of Yedso and Companies Land appears to be based on the Delisle model. A huge lake appears in Tibet and is named the legendary Chiamay. A second lake is shown in the position usually occupied by Lake Chiamay, but here it is named L. Cananor Cunabete.
This edition of the map includes an ornate second cartouche in the upper right corner of the map, featuring a procession. In later editions, the cartouche is removed and the coastal features above Japan along the NE Coast of Asia are significantly revised. There are also small changes in the mapping of Carpentaria.
Dampier's passage north of Carpentaria is noted, along with Arnham's Land and Vay van Diemen on the continent of Nova Hollandia. Nova Britannia appears as having been detected by William Dampier in 1700. Several place names appear in Carpentaria. Interesting projections of Japan and Corea, which appears as a long thin peninsula. Some Incognita (unknown) lands still appear in the Arctic Circle. 
About the Cartographer
Johann Baptist Homann (1664-1724) was a leading German geographer and cartographer who founded in 1702 his own publishing house.
Homann produced hundreds of maps and developed a distinctive style characterized by heavy detailed engraving, elaborate allegorical cartouche work, and vivid hand color. The Homann firm, due to the lower cost of printing in Germany, was able to undercut the dominant French and Dutch publishing houses while matching the diversity and quality of their output. By 1715 Homann's rising star caught the attention of the Holy Roman Emperor Charles the VI, who appointed him Imperial Cartographer. In the same year he was also appointed a member of the Royal Academy of Sciences in Berlin.
This map has been sold. Please keep checking our website as we may add a similar map.
The map is professionally framed using high quality and acid free materials
H: 51 cm W: 60 cm (66 x 76 cm framed size)
H: 20" W: 23 ½" (26 x 30" framed size)