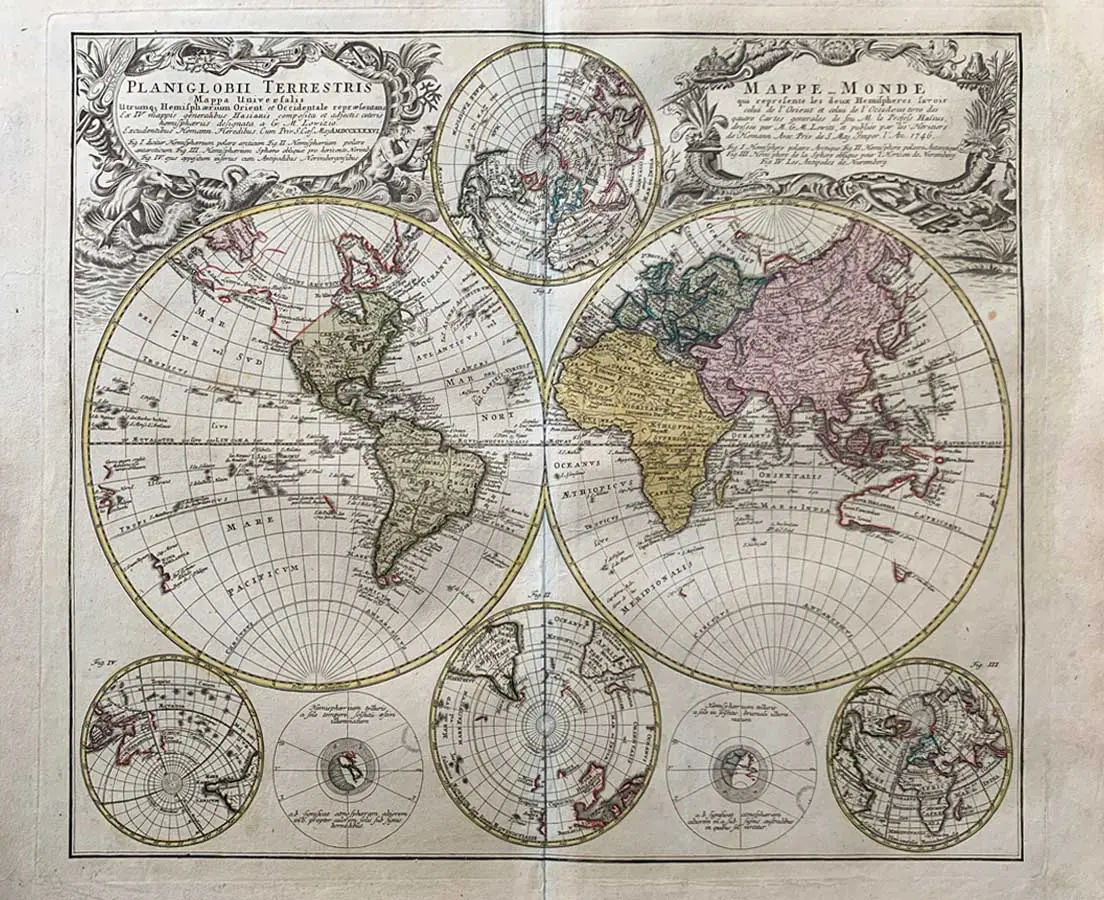 Mappe Monde – Copper engraving
Homann Heirs – 1746 (dated)
SGD 3,750
Title:
Planiglobii Terrestris Mappa Universalis Utrumq Hemisphaerium Orient Et Occidentale repraesentas Ex IV mappis generalibus Hasianis composita et adjectis ceteris hemisphaeriis designate a G.M. Lowizio Excudentibus Homann Heredibus. Cum Priv. S. Caes. Maj AMDCCXXXXVI
A fine, detailed copper engraved double hemisphere map of the world with four additional hemispheric maps and insets with representation of movements of the sun.
The map was drawn from the four General Maps of the late Professor J. M. Haas by M.G.M Lowitz and published by Homann Heirs. Includes incomplete Australia and New Zealand, fanciful North West coast of America based upon earlier Russian explorations, and mythical images of the Poles. Very decorative title cartouches in upper left- and right hand corner containing the titles, one in Latin and the other in French.
Original Antique map with the imprint of the copper plate still visible.
About the Cartographer and the Publisher
Johann Matthias Haas (1684 – 1742) was a German mathematician, astronomer, and cartographer. Haas was born in Augsburg but is known to have held academic positions in Nuremburg, Leipzig and Wittenberg, where he was a professor of mathematics. He produced several maps for the Homann Heirs firm in addition to several publications of his own.
Homann Heirs (1730 -1848) were a map publishing house based in Nurenberg, Germany from the middle of the 18th century to the middle of the 19th century. Following the death of the founder Johann Baptist Homann in 1726, the management of the firm passed to his son Johann Christoph Homann (1703-1730). J. C. Homann, perhaps realizing that he would not long survive his father, stipulated in his will that the company would be inherited by his two head managers, Johann Georg Ebersberger and Johann Michael Franz, and that it would publish only under the name Homann Heirs. This designation, in various forms appears on maps from about 1731 onwards. The firm continued to publish maps until the death of its last owner, Christoph Franz Fembo in 1848.
The map is professionally framed using high quality and acid free materials.
H: 49 cm W: 58 cm (70 x 78 ½ cm framed size)
H: 19" W: 23" (27 ½ x 31" framed size)