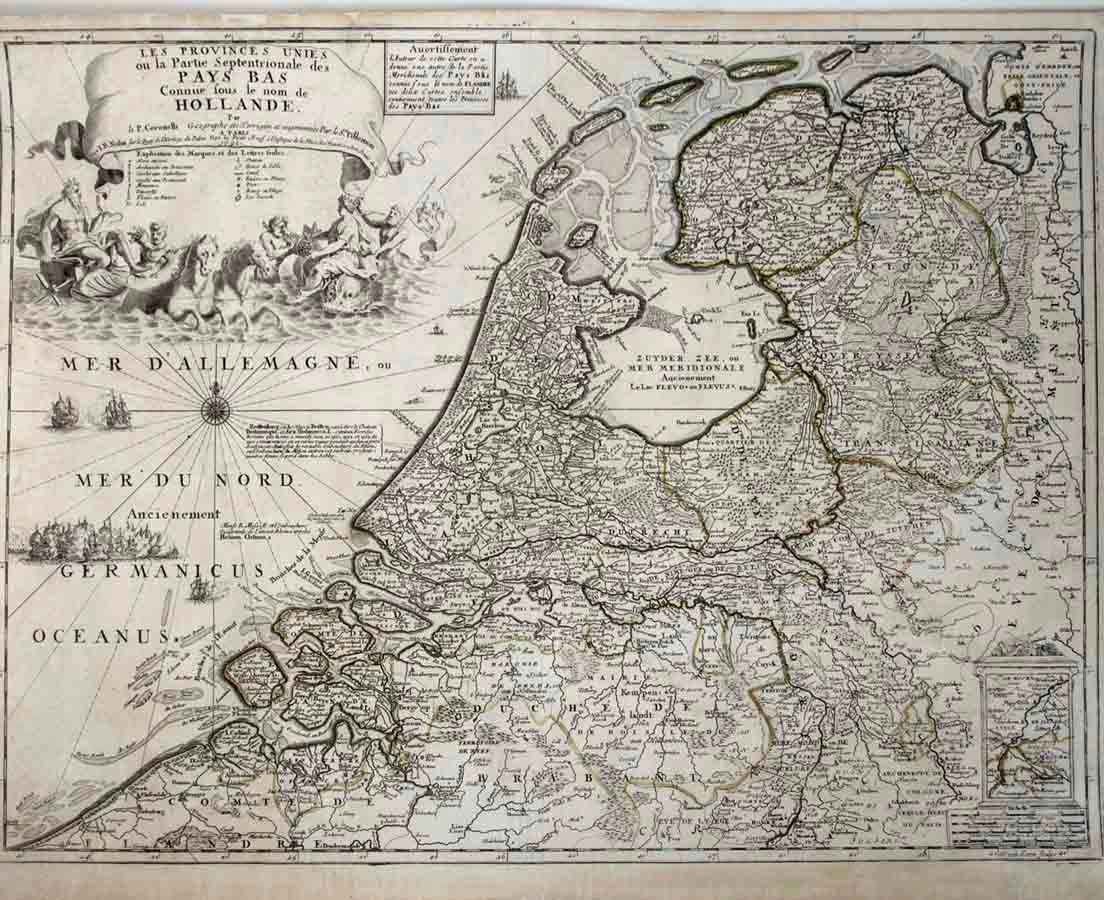 Les provinces unies des Pays Bas – Copper engraving – SOLD
Vincenzo Coronelli - 1690
A beautiful, scarce map of The Netherlands drawn by Vincenzo Coronelli, engraved by Herman van Loon and published in Paris in 1690 by Jean Baptiste Nolin. The present state of the map has been updated by Sieur Tillemon.The map includes an elaborate vignette below the title cartouche, reflecting the naval power of The Netherlands, with Neptune in his sea chariot top left and several sea battles shown below. The inset map of Lyege marking Mastricht.
About the cartographer
Vincenzo Coronelli (1650-1718) was a Franciscan monk, cosmographer, cartographer, and encyclopedist known in particular for his atlases and globes. He spent most of his life in Venice. In his home city he founded the very first geographical society, the Accademia Cosmografica degli Argonauti. He also held the position of Cosmographer of the Republic of Venice. Later six volumes of the encyclopedia "Biblioteca Universale Sacro-Profana" were published by Coronelli. Coronelli was amongst the initiators of the art of coated cards globes with terrestrial or celestial, handwritten and often finely decorated. He manufactured top quality globes for the Duke of Parma and Louis XIV. Their reputation was so wide that it provoked the request from the highest class and institution, desiring to adorn their libraries with it not only for scientific use but also as an artistic element. Coronelli died at the age of 68 in Venice, having created hundreds of maps in his lifetime.
The map is professionally framed using high quality and acid free materials.
H: 46 cm W: 62 cm (66 x 80 cm framed size)
H: 18" W: 24" : (26 x 31 1/2" framed size)