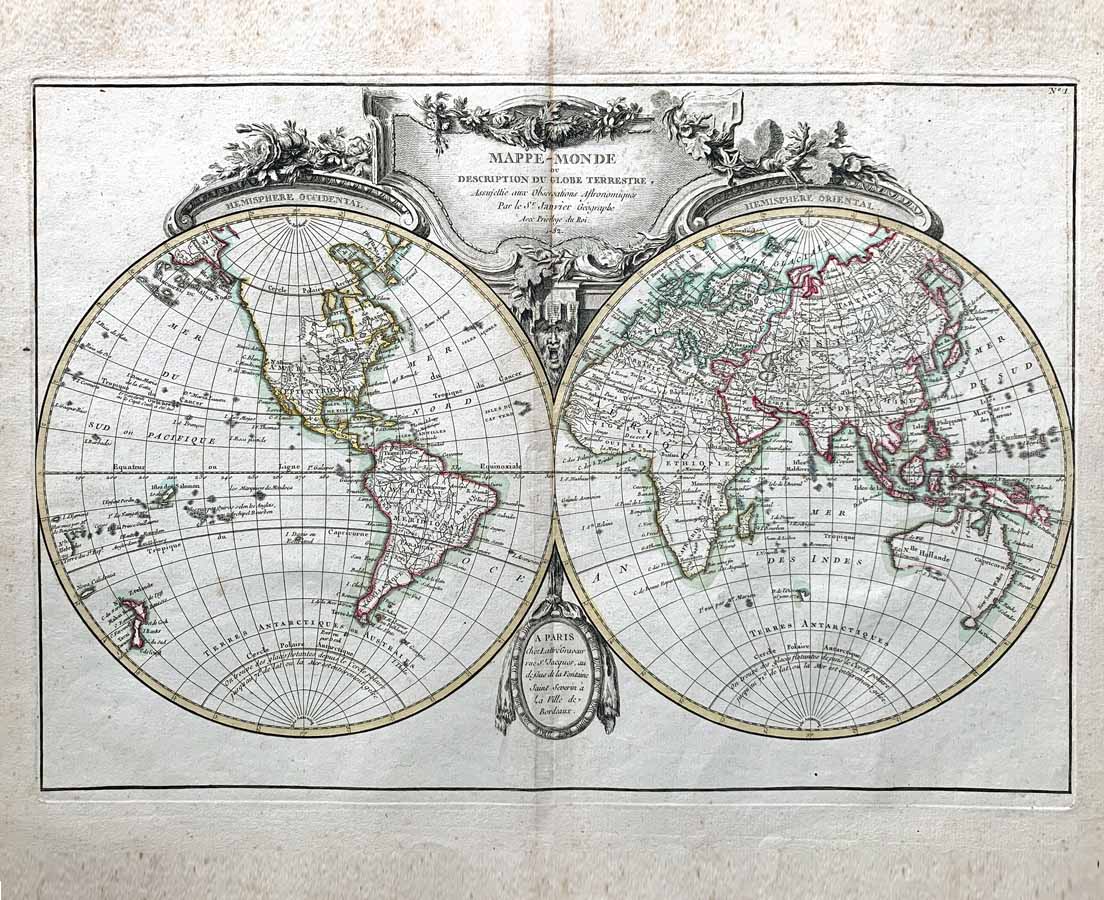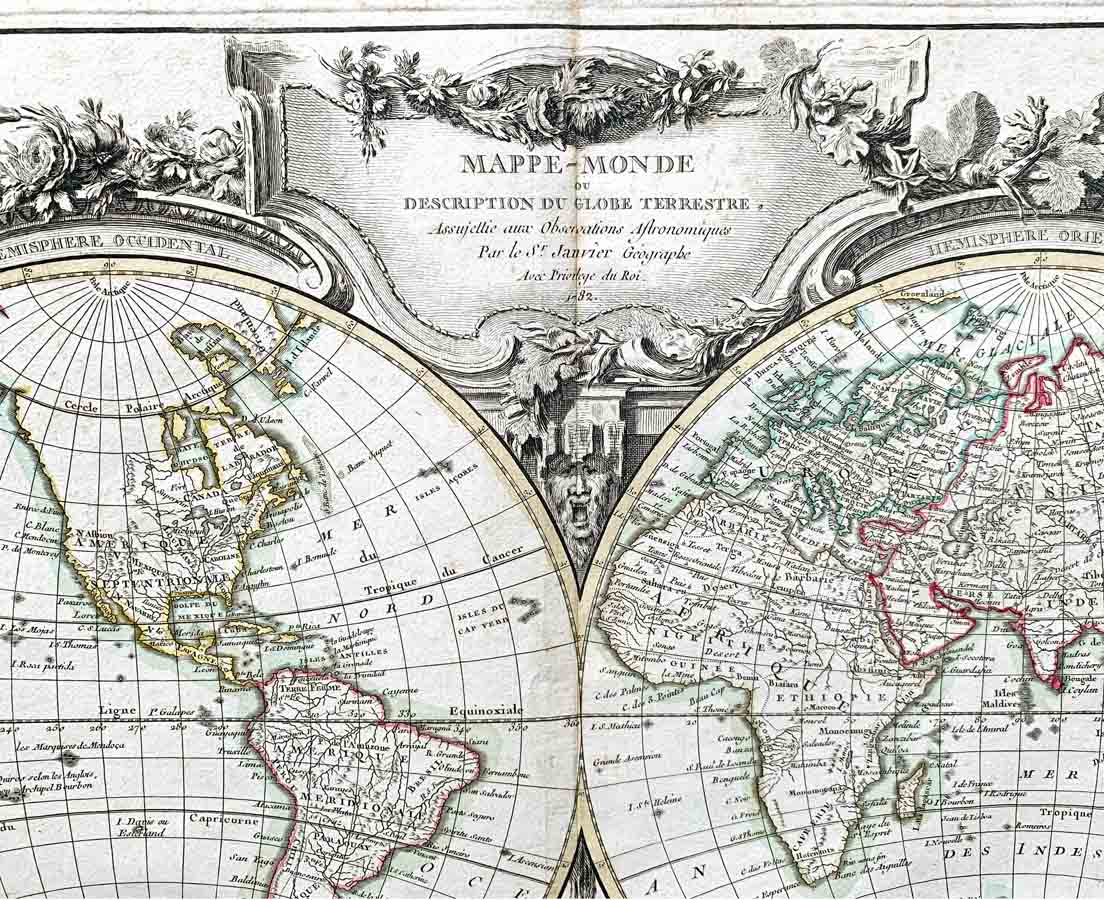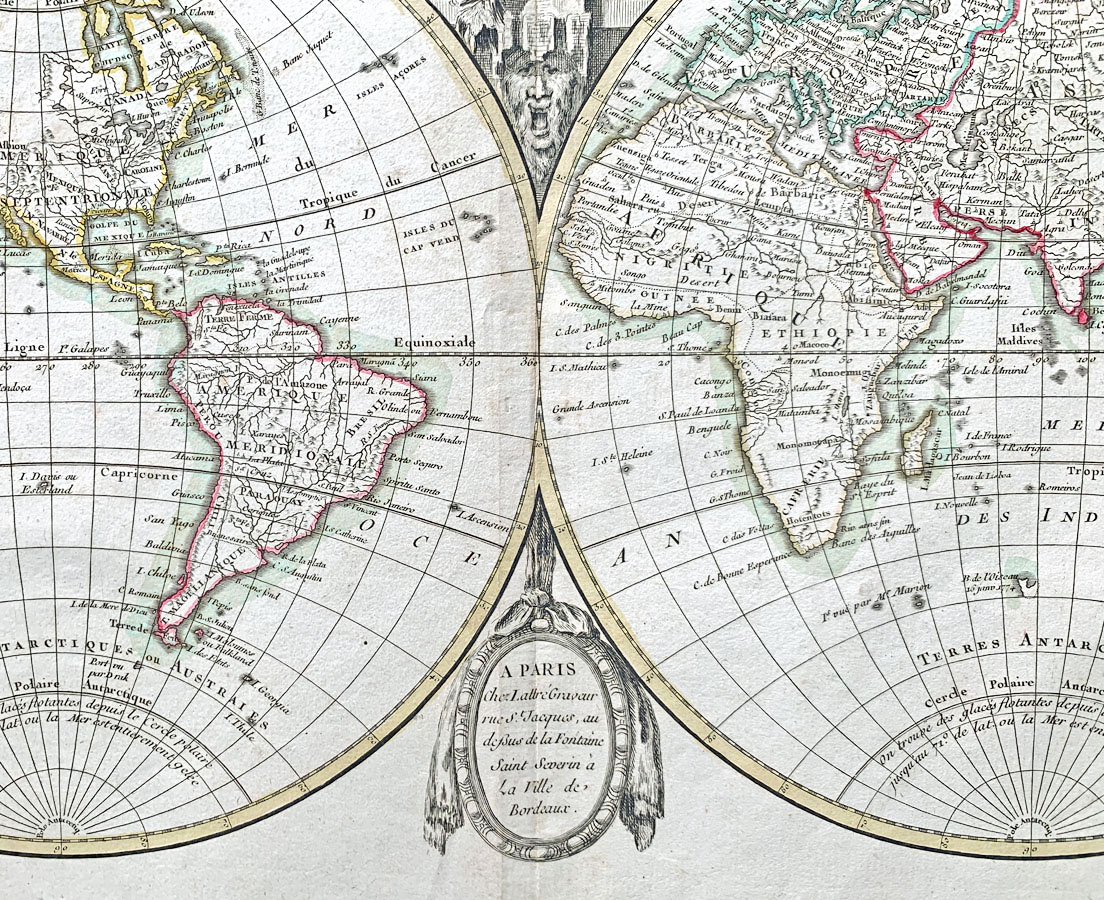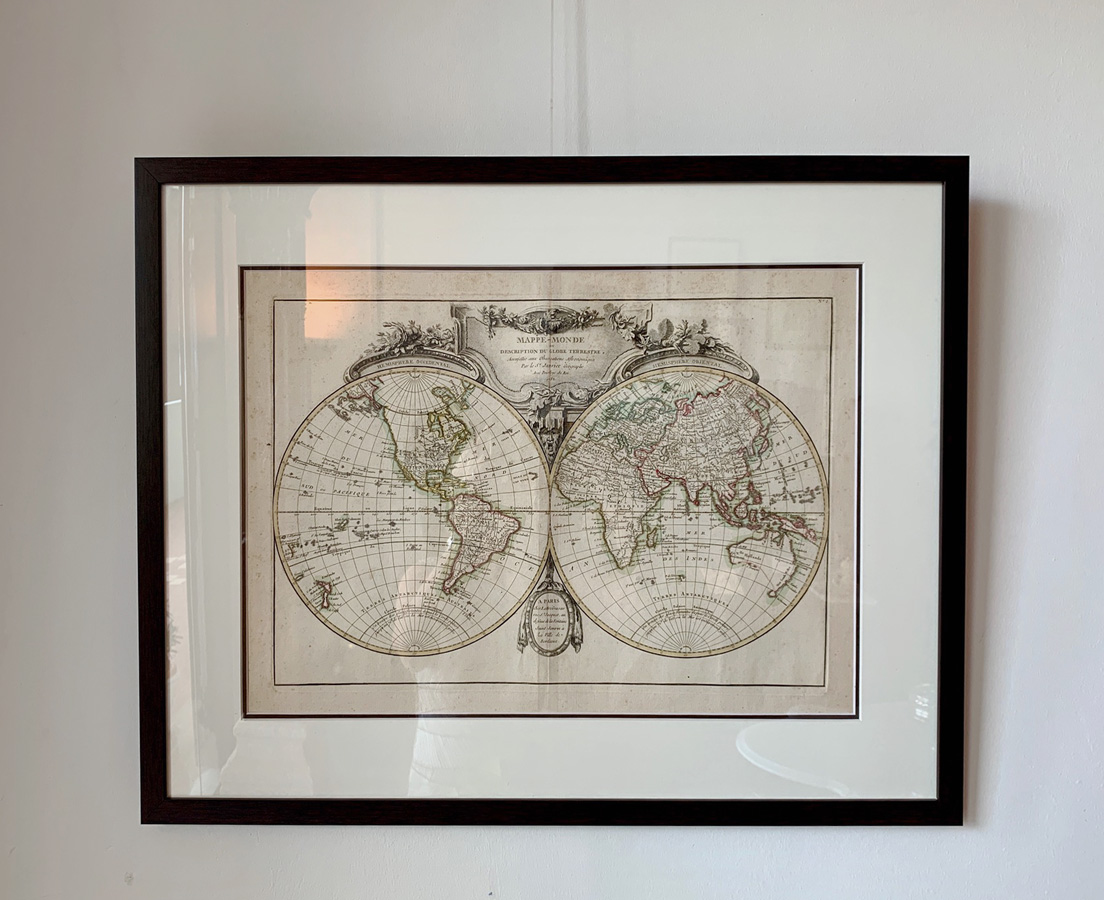 World Map in Two Hemispheres – Copper Engraving
Janvier & Lattré 1782
SGD 1,750
Mappe-Monde ou Description du Globe Terrestre, Assujettie aux Observations Astronomiques Par le Sr. Janvier Géographe Avec Privilege du Toi 1782. A Paris Chez Lattré Graveur.
Beautiful and impressive map of the world drawn by Jean Janvier in 1782. Depicts the entire world on a double hemisphere projection.
North America appears with a fair approximation of accuracy though the western and northwestern regions remain either blank or entirely speculative. Alaska is entirely absent. In South America many of the speculative geographic elements common to earlier maps of the regions, such as El Dorado and Lake Parima, are absent though the Lago de Xarayes does remain.
The North east parts of Asia, which had been explored by Vitus Bering are fairly accurate. South of the Equator, the shores of Australia or New Holland are speculatively mapped with a dotted line defining the southern edge of the continent. Van Diemen's land or Tasmania is depicted attached to the mainland.
Africa, as usual, is mapped accurately along the coasts and speculatively in the interior. While numerous tribes, kingdoms, and desert caravan routes are noted, most of the interior is conjectural.
Both hemispheres are crowned with an elaborate decorative cartouche in the late baroque style. Drawn by Janvier as plate no. 1 in volume 1 of Jean Lattre's 1782 Atlas Moderne.
About the cartographer
Jean or Robert Janvier (1746 – 1776) was a Paris based cartographer active in the mid to late 18th century. Janvier true first name is a matter of debate, as it often appears as either Jean or Robert. More commonly, Janvier simply signed his maps Signor Janvier. By the late 18th century Janvier seems to have been awarded the title of "Geographe Avec Privilege du Roi" and this designation appears on many of his latter maps. Janvier worked with many of the most prominent French, English and Italian map publishers of his day, including Faden, Lattre, Bonne, Santini, Zannoni, Delamarche, and Desnos.
Jean Lattré (1743 – 1793) was a Paris based bookseller, engraver, and map publisher active in the mid to late 18th century. Lattré published a large corpus of maps, globes, and atlases in conjunction with a number of other important French cartographic figures, including Janvier, Zannoni, Bonne and Delamarche. He is also known to have worked with other European cartographers such as William Faden of London and the Italian cartographer Santini. Map piracy and copyright violations were common in 18th century France. Paris court records indicate that Lattre brought charges against several other period map publishers, including fellow Frenchman Desnos and the Italian map engraver Zannoni, both of whom he accused of copying his work. Lattre's offices and bookshop were located at 20 rue St. Jaques, Paris, France.
The map has been professionally framed using high quality and acid free materials.
H: 38 cm x W: 51 cm ( 52 x 66 cm framed size)
H: 15" x W: 20" ( 20 ½ x 26" framed size)